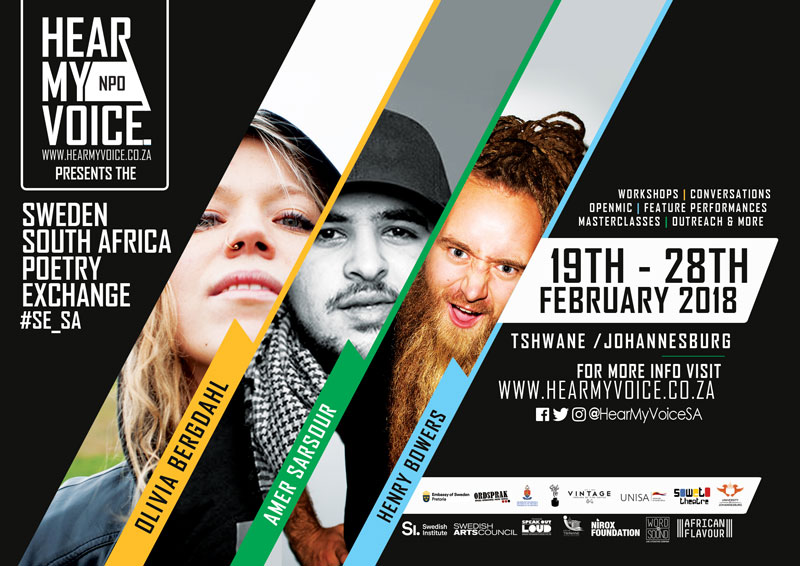 Three highly acclaimed Swedish poets will be touring Tshwane and Johannesburg from the 19th to 28th February 2018, as part of the Sweden and South Africa Poetry Exchange programme. The poets are Henry Bowers, Olivia Bergdahl and Amer Sarsour, who have each accomplished exceptional accolades in their own rights to fuel the unquenchable flame that is spoken word. The poetry exchange is a project by non-profit youth poetry organization Hear My Voice. This exchange programme aims to facilitate the exchange of knowledge, best practices and networks between Swedish and South African poets. Every country carries its own cultural energy; it is indeed a great privilege to have these ingenious Swedish poets on South African soil to share their own stories.
The poets will be taking part in various events in Tshwane and Johannesburg, which include conducting workshops at the University of Pretoria and the University of Johannesburg, a poetry reading at African Flavour Books in Braamfontein as well as a feature performance at the Soweto Theatre among other activities. A majority of the events will be free.
"Audiences can expect a whole lot of knowledge sharing, educational experiences and great performances," promises Phomolo Sekamotho co-founder of Hear My Voice.
The second phase of the exchange project will see poets from South Africa, including the winner of the Tshwane Speak Out Loud Youth Poetry Competition travel to Sweden later in the year to take part in the Ordsprak-Uppsala International Poetry Festival as well as other performances and workshops in communities in Sweden.
You can RSVP for any of the events listed below by visiting our event reservation page
Event Schedule
Monday 19th February 2018
11am – 4:30pm | Workshops at University of Pretoria | FREE ENRY, email scriberites@gmail.com to rsvp

Tuesday 20th February 2018
6:30pm – 8pm | Poetry in a Cup| Vintage Coffee, Menlo Park | Pay what you can
Thursday 22nd February 2018
2pm – 4pm | Last Thursdays Poetry Sessions | American Corner, Eskia Mphahlele Library, Pretoria| FREE ENTRY
5:30pm – 7pm | The Marriage of Arts and Academics Lecture | Unisa Muckleneuk Campus, Theo van Wijk Building, Floor 7, Room 7-68 | Free Entry
8pm – 10pm | Poetic Thursdays | Soweto Theatre |R30, www.sowetotheatre.com
Sunday 25th February 2018
9am – 4pm | Sculptured Words workshop and picnic | Nirox Sculpture Park | FREE ENTRY
Monday 26th February 2018
3pm – 5pm | Workshop at Afrika Tikkun | Uthando Centre, Braamfontein | closed participation 6pm – 8pm | Poetry Reading | African Flavour Books, Braamfontein | Pay what you can
Tuesday 27th February 2018
8pm – 10:30pm | Soweto Theatre | Soweto | R50 entry, R40 for Students and Pensioners
Wednesday 28th February 2018
12pm – 2pm | Workshop at University of Johannesburg Library | Bunting Road Campus| FREE ENTRY
8pm | Word n Sound Poetry Corner| Outie Cafe, Newtown (Opposite the Market Theatre) | FREE ENTRY

keep in touch with the project on social media via @HearMyVoiceSA and @SpeakOutLoudSA on Twitter, Facebook and Instagram

The Embassy of Sweden in Pretoria makes the Sweden_South Africa Poetry Exchange project possible through funding from the Swedish Institute and the Swedish Arts Council. The City of Tshwane, Ordsprak - Uppsala International Poetry Festival and the Tshwane Speak Out Loud Youth Poetry Competition and Festival provide additional support.

Our event/activity partners include The University of Pretoria, The University of South Africa, The University of Johannesburg, The American Corner, Nirox Foundation, African Flavour books, Soweto Theatre, Afrika Tikkun, Word n Sound Live Literature Company and Scribe Rites.