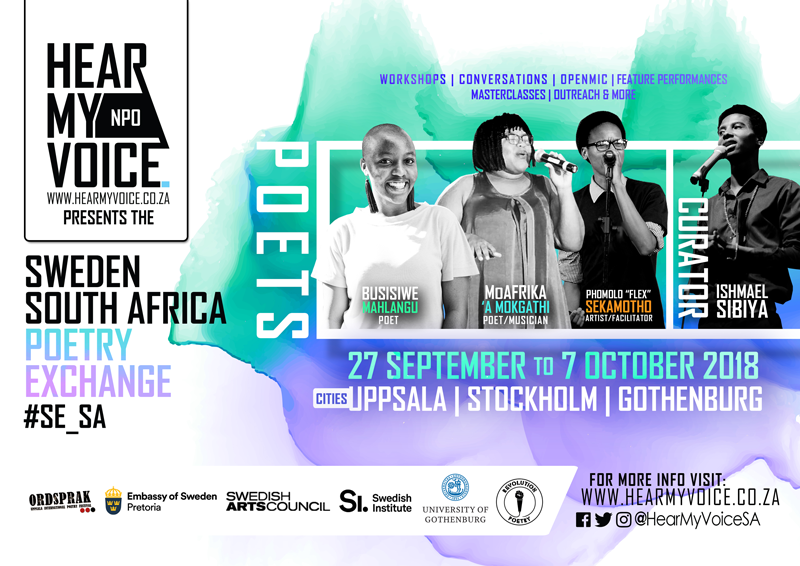 The third phase of the Sweden_South Africa Poetry Exchange facilitated by Hear My Voice and made possible by the Embassy of Sweden in Pretoria, will be taking place from 27th September 2018 to 7th October 2018 in Sweden. The project sees three South African poets; Busisiwe Mahlangu, Phomolo Sekamotho and MoAfrika 'a Mokgathi along with arts administrator Ishmael Sibiya travel to Sweden to partake in various activities over 10 days which include facilitating workshops, feature performances, outreach and open mics in Uppsala, Stockholm and Gothenburg. The previous phases of the project have seen Swedish writers and performers Henry Bowers, Olivia Bergdahl and Amer Sarsour travel to South Africa in February 2018 and then again Swedish writer Athena Farrokhzad in August - September 2018 for similar activities in Tshwane, Johannesburg and Cape Town.
The South African poets will be visiting the Gothenburg University on the 1st of October along with fellow South African poet Koleka Putuma who will also be in the country for the Gothenburg Book Fair. They will facilitate a workshop with students at the University's Valand Academy and later on that evening perform at the Gothenburg Litteraturhuset (House of Literature). From the 4th to 6th October they will be partaking in the Ordsprak International Poetry Festival taking place in Uppsala, Sweden which will also feature poets from the rest of the world including Buddy Wakefield from the USA and D'bi.Young from Jamaica/Canada among others. The poets close off the tour with a performance at the Revolution Poetry Open Mic at the Kulturhuset Stadsteatern - Stockholm House of Culture and City Theater in Stockholm on the evening of the 6th of October.
"At the heart of The Sweden South Africa Poetry Exchange is the making of space for quality poetry; for the writers that will form the canon of tomorrow and for the readers and audience that will be engaged, provoked, and touched. We do this by providing young poets the possibility to step onto international arenas on the other side of the globe." says the Swedish ambassador to South Africa, Cecilia Julin.
Stay up to date with the tour on social media (@HearMyVoiceSA) on: Twitter, Facebook and Instagram and the #SE_SA hashtag. The full itinerary will be made available shortly.
The Sweden South Africa Poetry Exchange aims to facilitate the exchange of knowledge, best practices, networks, market growth through the generation of new audiences and provide access to international markets for the participating Swedish and South African writers and performing poets. This phase is Facilitated by Hear My Voice in partnership with the Ordsprak - Uppsala International Poetry Festival, the project is made possible by the Embassy of Sweden in Pretoria through funds from the Swedish Arts Council and the Swedish Institute. Programming partners include the Gothenburg University and Revolution Poetry.
Tour Schedule
Monday 1st October 2018
10:00
Workshop at the Valand Academy at the University of Gothenburg
Venue: University of Gothenburg405 30 Gothenburg, Sweden,
Details: Featuring Koleka Putuma, MoAfrika 'a Mokgathi, Busisiwe Mahlangu and Phomolo "Flex" Sekamotho
Entry: Open to Valand Academy students only
19:00
Performance at Litteraturhuset, House of Literature
Venue: Göteborgs Litteraturhus Heurlins Plats 1, 413 01 Göteborg, Sweden
Entry: Open to the public
Details: Featuring Koleka Putuma, MoAfrika 'a Mokgathi, Busisiwe Mahlangu and Phomolo "Flex" Sekamotho
Tuesday 2nd October 2018
18:00
Performance at the Nordic Africa Institute
Venue: Nordiska Afrikainstitutet Villavägen 6, 752 36 Uppsala
Details: spoken word evening at the Nordic Africa Institute in Uppsala. Four poets and artists from South Africa will grab the microphone:
Entry: Free, no need to register https://www.facebook.com/events/284651618808173/?acontext=%7B%22ref%22%3A%2222%22%2C%22feed_story_type%22%3A%2222%22%2C%22action_history%22%3A%22null%22%7D
Wednesday 3rd October 2018
09:00 - 12:00
Performance and Workshop at the Wik Further Education College
Venue: Wik Further Education College, Uppsala
Entry: Open to Wik Students only

Thursday 4th October 2018
19:00
Ordsprak International Poetry Festival: Ordsprak Poetry Slam
Venue: Regina Theatre, Trädgårdsgatan 6, Uppsala
Entry: Free
https://www.reginateatern.se/ordsprak-2018.php
Friday 5th October 2018
19:00
Ordsprak International Poetry Festival: Main Event
Venue: Venue: Regina Theatre, Trädgårdsgatan 6, Uppsala
Details: featuring D'bi.Young (Jamaica/Kanada), Buddy Wakefield (USA), Phomolo Sekamotho (Sydafrika), MoAfrika 'a Mokgathi (Sydafrika), Busisiwe Mahlangu (Sydafrika), Melinda "Dizi" Lönnberg (Finland), Jami Faltin (Sverige), David Väyrynen (Sverige) , Olivia Bergdahl (Sverige) , Oskar Hanska (Sverige), Henry Bowers (Sverige), ÖFA (Sverige), Alma Kirlic (Sverige), Amer Sarsour (Sverige)
Entry: Festival entrance fee: 150 kr (& booking fee 25 kr); under 27 / student: 90 kr (& booking fee 10 kr)
https://www.reginateatern.se/ordsprak-2018.php
Saturday 6th October 2018
19:00
Ordsprak International Poetry Festival: Main Event
Venue: Venue: Regina Theatre, Trädgårdsgatan 6, Uppsala
Details: featuring D'bi.Young (Jamaica/Kanada), Buddy Wakefield (USA), Phomolo Sekamotho (Sydafrika), MoAfrika 'a Mokgathi (Sydafrika), Busisiwe Mahlangu (Sydafrika), Melinda "Dizi" Lönnberg (Finland)
Jami Faltin (Sverige), David Väyrynen (Sverige) , Olivia Bergdahl (Sverige) , Oskar Hanska (Sverige), Henry Bowers (Sverige), ÖFA (Sverige), Alma Kirlic (Sverige), Amer Sarsour (Sverige)
Entry: Festival entrance fee: 150 kr (& booking fee 25 kr); under 27 / student: 90 kr (& booking fee 10 kr)
https://www.reginateatern.se/ordsprak-2018.php
17:00
Performance at Revolution Poetry Open Mic
Venue: Kulturhuset Stadsteatern, Beridarbansgatan 5, 111 51 Stockholm