Bodies Under Siege, a South African production of spoken word poetry and music, is set to air as part of the Gothenburg Book Fair on Saturday 26 September 2020 at 17:00 (SAST). The showcase, which amplifies the voices and the plight of women and the LGBTQI + community, will broadcast on the "Book Fair Play" platform, available at bokmassan.se.
The concept will showcase artists who through their work are vocal, and introspective, of the struggles women and the LGBTQI + community face; such as gender based and sexual violence, hate crimes, body shaming, and many other societal issues which affect these individuals.
Borrowing voices from women, the LGBTQI + community, as well as men, Bodies Under Siege will hold the conversation to the light with featured poets Vangile Gantsho, Christie "FossilSoul" van Zyl and Solly "Soetry" Ramatswi. They will be accompanied by a live band made up of Phuti Sepuru on keyboard, Concord Nkabinde on bass guitar and David Klassen on percussion.
"The production will showcase a South African perspective on the abilities of these groups to overcome adversity in different public spaces while still exuding excellence, empathy, co-creation, dignity and strength. It is a reminder of their perseverance and celebrates their ever-evolving and pivotal role in society." says MoAfrika wa Mokgathi, Director at Hear My Voice.
Hear My Voice with the assistance of the Embassy of Sweden in Pretoria, has since 2018, been facilitating literary exchanges between South Africa and Sweden and they are now the organisers of this honourable South African showcase at Scandinavia's largest cultural event.
Over 85 000 people attend the Gothenburg Book Fair annually and this year, the 2020 Fair is going digital – opening it up to those who would ordinarily not have been able to experience or access this event. All programme events are free to the public to stream on "Book Fair Play", including Bodies Under Siege.
This production is made possible through the support of the Embassy of Sweden in Pretoria, Rámus, the Olof Palme International Center, The South African State Theatre, the National Arts Council of South Africa and Hear My Voice – a non-profit organisation that develops and supports spoken word artists.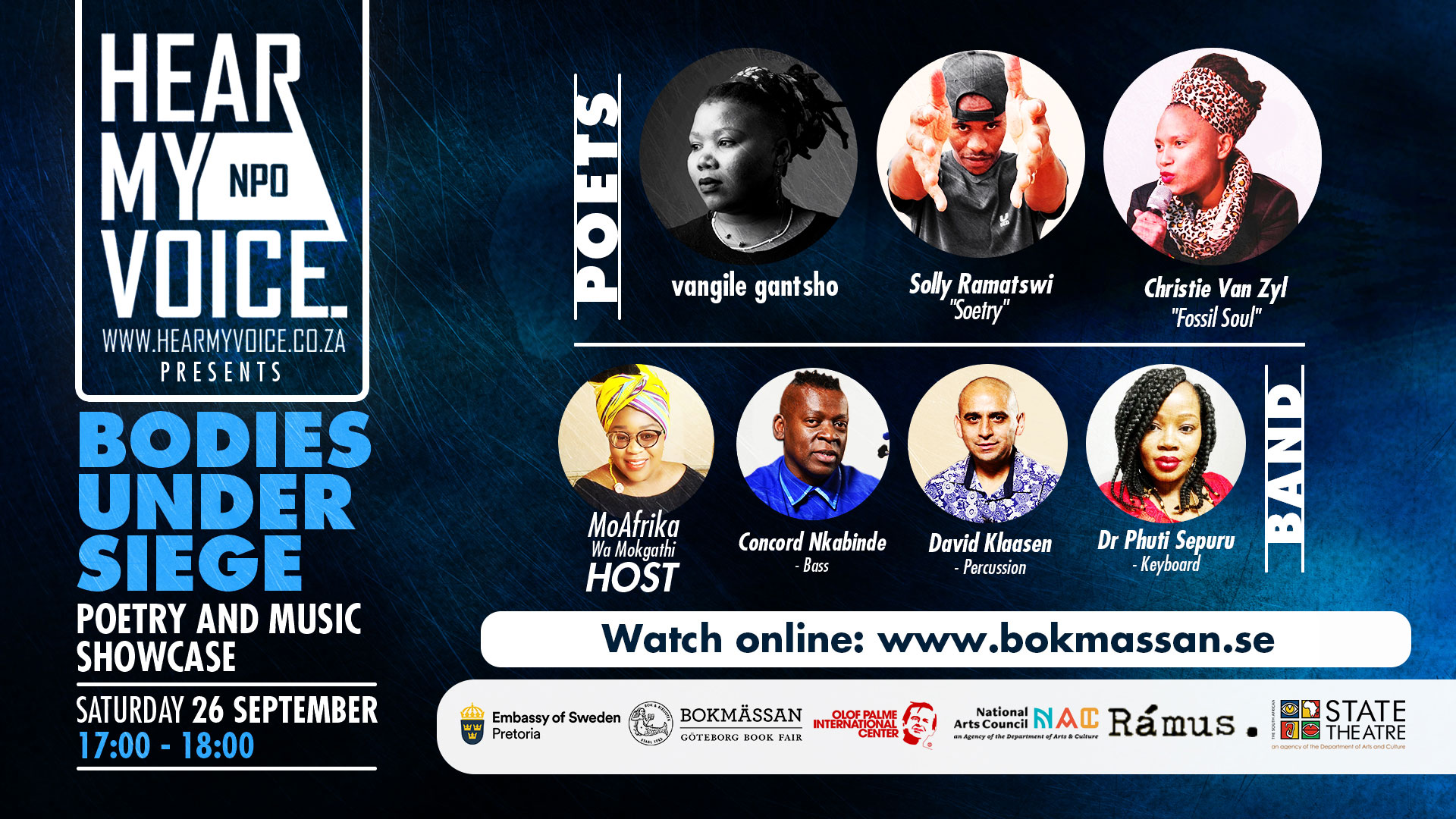 *ENDS*
If you would like to donate or contribute to the meaningful work that this non-profit organisation does within the literature and poetry space, visit www.hearmyvoice.co.za for more information.
Hear My Voice:
Facebook: www.facebook.com/Hearmyvoicesa/
Twitter: twitter.com/hearmyvoicesa
Instagram: www.instagram.com/hearmyvoicesa
Website: www.hearmyvoice.co.za
This press release was put together by That-Network
Shakirah Dramat
shakirah@that-network.com