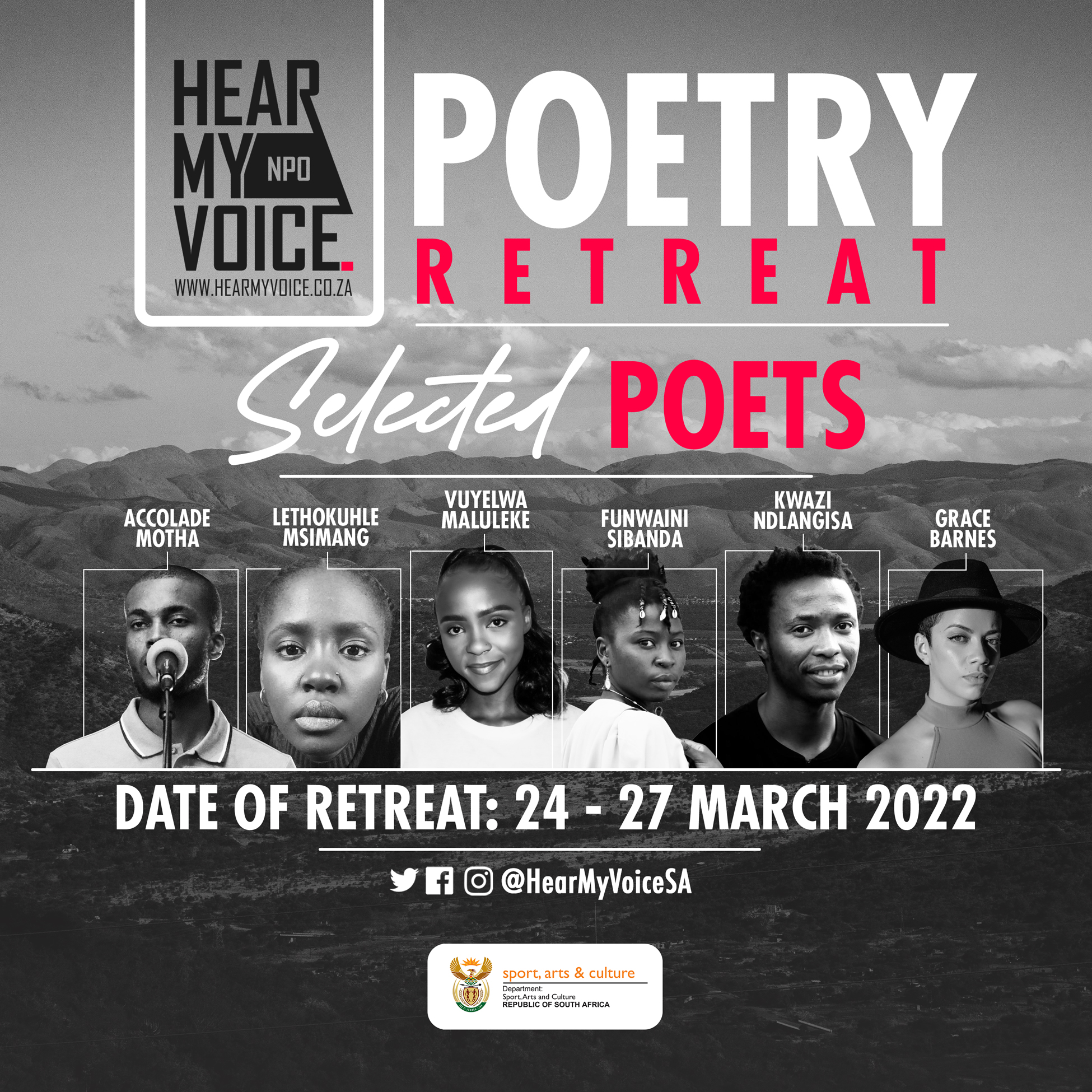 Hear My Voice is thrilled to announce the selected poets for the second ever multi-day poetry retreat, which is taking place in Mpumalanga from the 24th till the 27th of March 2022. The final selection was based on the applicant's motivation, experience and new emerging voices.
The Hear My Voice poetry retreat is made possible through funding from the Department of Sport, Arts and Culture.
Funwaini Sibanda
Funwaini Inwi Sibanda is a Zimbabwean born multidisciplinary artist and multidimensional conduit using poetry, visual arts to explore themes of African Identity and spirituality. Currently living in Johannesburg, South Africa Inwi has embarked on a creative journey doing collaborative projects with musicians to create a Poetry EP mused by Ether People doing the work of healing
Kwazi Ndlangisa
Kwazi Ndlangisa is a multi-award-winning poet, author of Collecting Self, translator and umlolozelo singer from KwaZulu-Natal, South Africa. His writings are a golden thread through Africanism and spirituality and are inspired by his surroundings and his inner being. He believes that writing and reading poetry is a perfect channel to collect the self, back to its true purpose, both in the psychological and spiritual realm. Ndlangisa is the Managing Director of Pot Of Art - a house for creative arts.
Vuyelwa Maluleke
Vuyelwa Maluleke is an Audio-Visual Artist, Writer, Theatre practitioner and Performance Poet who holds an MA in Creative Writing from Rhodes University; as well as a BA in Dramatic Arts from the University of Witwatersrand. Maluleke describes her works as post-colonial transcriptions of race, gender and black social life in Post-Apartheid South Africa. Author of the poetry chapbook 'Things We Lost in the fire', her Manuscript 'The Blue Album' was shortlisted for The Sillerman First Book prize'. Maluleke is widely published in publications such as The Boston Annual Review, The Rialto, New Coin South African Poetry Journal and Guernica Magazine.
Accolade Motha
Accolade Motha is a world-class Author, Poet and Creative Businessman with his main footprint marked in the field of poetry. A Successful Orphan as beautifully captured in the subtitle of the book, Accolade Motha lives this expression through his work of writing and performance. Accolade has made appearances on many of the country's notable poetry platforms such as the Pick Me Up Poetry, Hear My Voice Poetry Relief Series Ep 5 (2020), Word N Sound platforms to name a few. Having written script and starred for the UHURU TV App Advertisement in April of 2021, Accolade Motha is a scriptwriter, voice-over artist, and publisher who has worked on five books in the last 24 months (only two being his). Motha authored "Drawing Deep Breaths" in 2021 and co-authored the national bestselling "Monate Mpolaye alongside two South African entrepreneurs in June 2020. His work has an international footprint after having collaborated with Germany and USA based writers and poets. Drawing Deep Breaths has been reviewed and featured on an article by Notepad Poetry and is available as an e-book on Kobo Writing Life via the link on @accolade_motha 's Instagram profile bio.
Grace Barnes
Grace Barnes is a performer, choreographer, teacher and spoken word artist. She graduated BA (hons) in Dramatic Arts and holds a Masters in Applied Theatre. She is very passionate about activism and education and the power art has to change perceptions and leave a lasting impact. she explores the capacity of storytelling through a fusion of movement and poetry and her work deals with issues around social justice, love, loss and lessons on life. She has performed extensively in various spaces in S.A and Asia and collaborated on projects funded by NAC and Department of Arts and Culture that focuses on plant preservation and creating conversations between the Highveld grassland and Cape desert. She has self-published 3 of her works between 2019-2021 - a series of collections of short poems. She also hosts some open mic and poetry events in Johannesburg to create platforms for young up and coming talent in the poetry community to showcase their works. Her work aims to inspire, transpire, provoke and evoke change.
Lethokuhle Msimang
Lethokuhle Msimang is a South African poet and memoirist, born in Durban KwaZulu-Natal. Graduated with a B.A. in Literary Studies and Creative Arts at the American University of Paris, and a Masters in Creative Writing at Rhodes University. Her poems have appeared in New Coin Poetry, Grocotts Mail, Hanging Loose, The Paris/Atlantic, etc. In 2019 she self published a book of poetry entitled Hubris. She has since completed her novella - The Frightened, to be published by Impepho press.