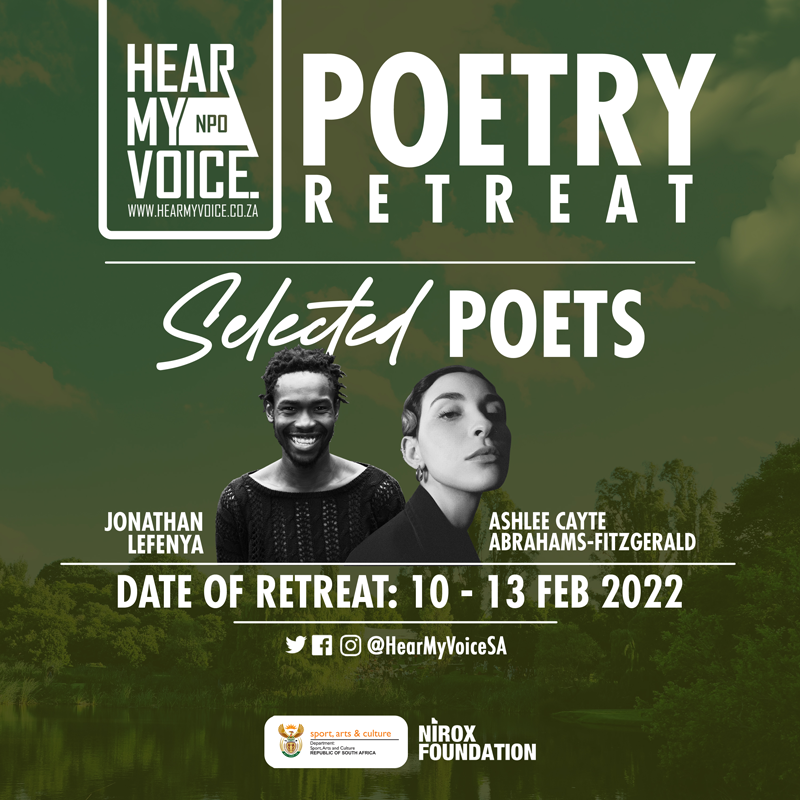 Soweto artist and performance poet Jonathan Lefenya and Johannesburg-based poet Ashlee Cayte Abrahams-Fitzgerald, are the two poets who will be given the opportunity to attend a 4-day Hear My Voice poetry retreat.
They will explore the relationship between nature and the manifest in various art forms during this retreat. This will take place at the Cradle of Humankind from Thursday 10 to Sunday 13 February, after which they will feature at this year's Valentine's concert at the NIROX Sculpture Park.
The poets are excited to be selected from over 100 submissions: "Being chosen to be part of this retreat means that I get to explore, I get to create, to learn, to experiment. I get to be amongst amazing creatives, which offers me an opportunity to grow. I am excited also grateful to be part of the selected few, and I am honoured that Hear My Voice saw me as a good fit to be part of this talented group, all that is left for me to do is to make the most of my time at this retreat." Says Jonathan Lefenya
Jonathan is a Soweto artist, performer, writer, editor and translator whose work flings open the narrow window of language through which we are accustomed to describing reality. In so doing, the poet compels both himself and the audience to reflect on the plight and plethora of the human condition. Growing up, he had neither a sense of the world nor his place in it, so the poet uses writing as a metaphor for control. As a performance poet, his work is that of remarkable pliability and nuance. On the poetry stage, Jonathan's art is known for its' pathos and piercing nature, which appeals to the delicate senses of the audience. He received several titles, some of which include: four-time WordNSound King of the mic, Winner of the Youth Art competition at the Roodepoort theatre (2019), World of Words slam Top 5 finalist (2019), winner of the College Poetry Competition (2017-2018), and clash of the regions poetry champion (2021).
"As animals are drawn to water, so too flora turns towards the sun, and poets are called to share. Hear my Voice restores the natural order of things, reminding us of the power of words and encouraging artists like myself to engage our purest expression. I am truly grateful to have been selected for this retreat, and am eager to learn from and create alongside the talented participating artists." says Abrahams-Fitzgerald.
As a young South African, a born-free raised by those who were once apartheid exiles, Ashlee was gifted the clarity, strength and voice to channel and share that many would prefer to remain in the shadows. Her passion and devotion to performance and writing have been nurtured early. Throughout the years, poems have remained her favourite. She found her purest and most profound expression in writing and theatre: participating in poetry workshops and competitions, sharing and performing, writing monologues and plays - which led her to study a professional degree in Theatre, majoring in Writing, Directing, and Arts Management. Ashlee's final work for Writing and Directing makes use of a series of her poems, as it was written, directed and performed herself during the 2020 national lockdown. She graduated with a Bachelor's degree in Performing and Visual Arts in 2020 and worked as an arts manager in 2021.
"The call-out received an overwhelming number of applications, making the selection process of successful applicants very rigorous. The final selection was based on a balance between track record, motivation, experience, and new emerging voices," says Phomolo Sekamotho, Director at Hear My Voice.
The retreat intends to provide a conducive environment for creative construct and clarity of thought. This retreat offers the poets the opportunity to connect with like-minded individuals and space to create. The two selected poets will join several established poets, such as Modise Sekgothe, Thuli Zuma, Luleka Mhlanzi and Kwena Peu. The programme will include writing sessions, hikes, meditation and talks with industry peers.
The Hear My Voice Poetry Retreat is made possible through support from the Department of Sport, Arts and Culture, The Hear My Voice Mobility Fund and The Nirox Foundation.
Hear My Voice is a non-profit organisation based in Tshwane, South Africa, that, since 2016, has supported hundreds of spoken word artists through organising local and international exchange programs, workshops, live spoken word shows, open mics and other literature programs for schools, private companies, government, libraries, festivals and other cultural institutions. Currently, Hear My Voice is also accepting Mobility Fund applications.