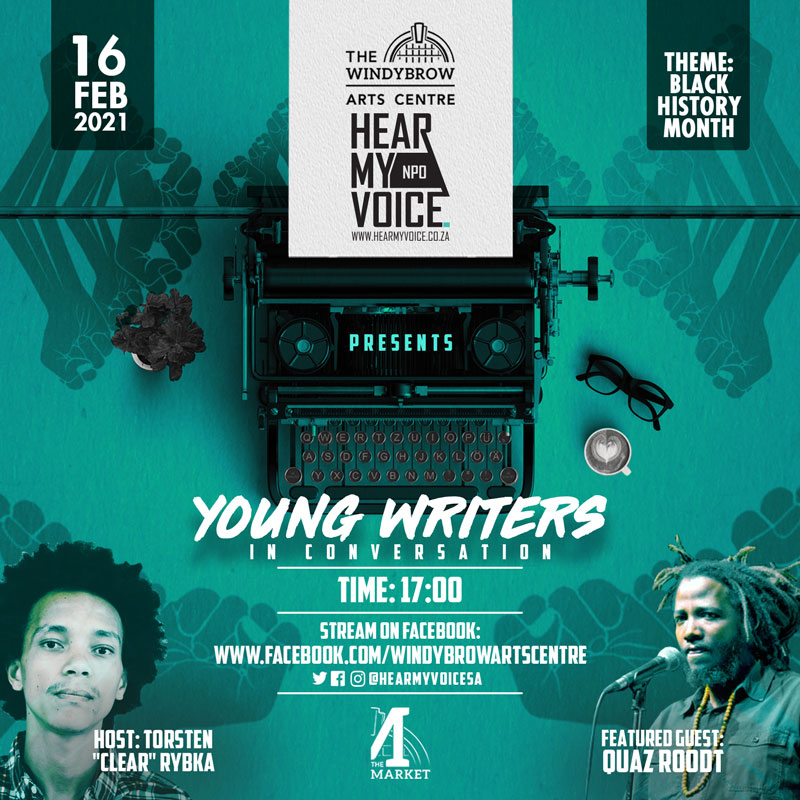 In celebration of black history month, the Windybrow Arts Center and Hear My Voice have planned an insightful and interactive program for young aspiring poets and writers. the program will consist of 4 workshops that will be held every Tuesday at 5pm via zoom and will be streamed live on the Windybrow and the Hear My Voice Facebook pages. We invite youths between the ages of 13-19yrs to sign up and gain access to participate in the workshops.
The workshops will have a strong focus on the importance of black history month and will host a variety of national and international poets who have carefully curated and planned sessions that will not only share the importance of black history month, but will also assist young and aspiring poets with their process and writing skills. We are excited about hosting these workshops as they create a platform for shared learning and experiences. The aim is to not only educate and inform young people on the history of black people, but to also assist them in finding ways to capture their experiences through poetry and spoken word. Participants will be invited to join the sessions in the zoom room so that they can ask questions and give their opinions in the moment.
As Dylan Thomas once said; "A good poem is a contribution to reality. The world is never the same once a good poem has been added to it. A good poem helps to change the shape of the universe, helps to extend everyone's knowledge of himself and the world around him" we believe that these workshops will impart knowledge that will give our youth the confidence and urgency to be contributors of their history and society through their poetry.
You can register to join in the Zoom Room via the following link: https://forms.gle/j2CwN3hfQcoA81LV9