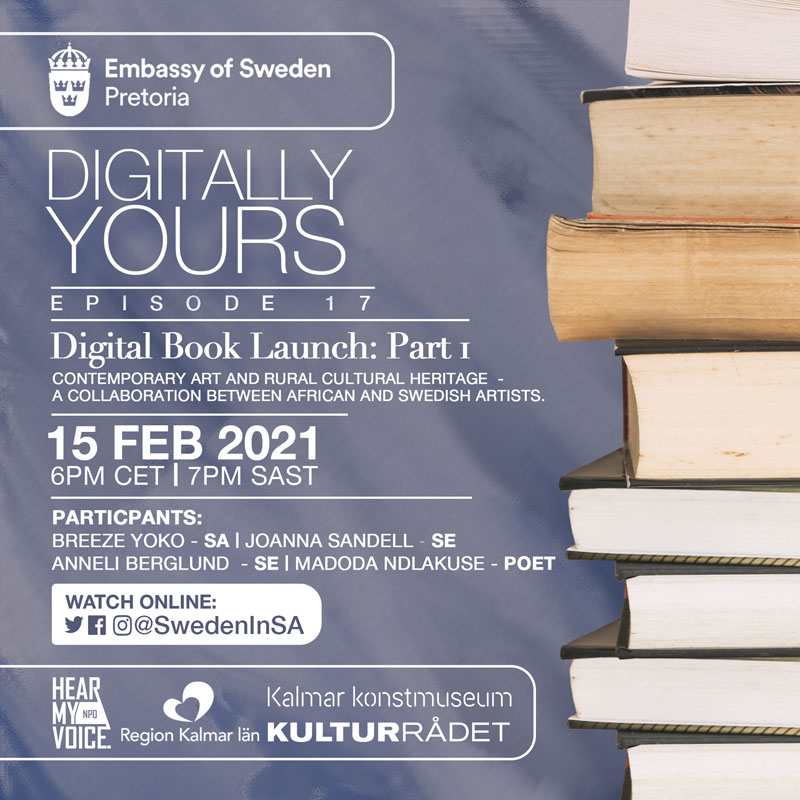 The Embassy of Sweden in Pretoria is proud to announce the kickoff of the third season of the initiative that has served as a virtual online performance and collaboration platform for innovative global engagement as a response to the COVID-19 pandemic.
Since its commencement in April 2020, the web series has produced 16 episodes with a reach of over 300 000 views and ultimately connected artists, musicians, writers, arts administrators, curators, poets and politicians alike.
Throughout the pandemic weekly showcases not only encouraged collaboration but also served as a means of much needed income for artists in a year that saw the world go into lockdown and with it opportunities for artists to perform dry up.
The web series garnered support and an array of partnerships in both countries including additional financial support from institutions such as The Market Theatre, Bonnier Publishing Group, Sweden South Africa University Forum and The Windybrow Arts Centre.
After taking a three month hiatus – the series returns on February 15th 2021 launching a book trilogy that is the result of collaboration between artists from across various countries on the African continent and Swedish organisation Kalmar konstmuseum. The books are born out of a series of residencies, seminars and publications have developed a method for broadening and changing the notions of cultural heritage in relation to globalisation.
The triology was produced by The Mirror Institution and published by Kalmar konstmuseum in Sweden and titled:
"The Cow: Contemporary Art and Rural Cultural Heritage: 1"
"The Horse: Contemporary Art and Rural Cultural Heritage 2"
"The Lamb: Contemporary Art and Rural Cultural Heritage 3"
The return episode will feature South African multi-disciplinary artist Breeze Yoko who participated in the project as well as Swedish arts curator Joanna Sandell as well as Anneli Berglund and Sara Hemmingsson live from the Kalmar launch. Dynamic Eastern Cape-based poet and writer Madoda Ndlakuse will close off the show with a performance.
Speaking ahead of the relaunch, the Ambassador of Sweden to South Africa Mr Håkan Juholt
"As the COVID pandemic rages on globally, we are happy for being positioned to be able to continue with assisting artists and connecting Sweden and South Africa through the safe and accessible channels online. We aim to build on the success of this initiative in a manner that is sustainable and beneficial to all participants."
The third season of #DigitallyYours returns return on 15th February 2021 with additional viewing options. Watch the live stream at 19:00hrs [SAST] on the following channels:
Embassy of Sweden Facebook Page: The Embassy of Sweden in Pretoria
Embassy of Sweden Twitter: @SwedeninSA
Embassy of Sweden Instagram: @SwedeninSA
The Embassy of Sweden in Pretoria and local NPO Hear my Voice will continue to bring together stakeholders from both South Africa and Sweden incorporating creatives from different sectors including theatre, fashion, literature, music, spoken word, media, government and academia through virtual roundtables and performances for the next three weeks.
Follow The Embassy of Sweden in Pretoria on Facebook for updates on the line-up of artists and stakeholders and live stream the Sweden-South Africa Live Connection: #DigitallyYours series.