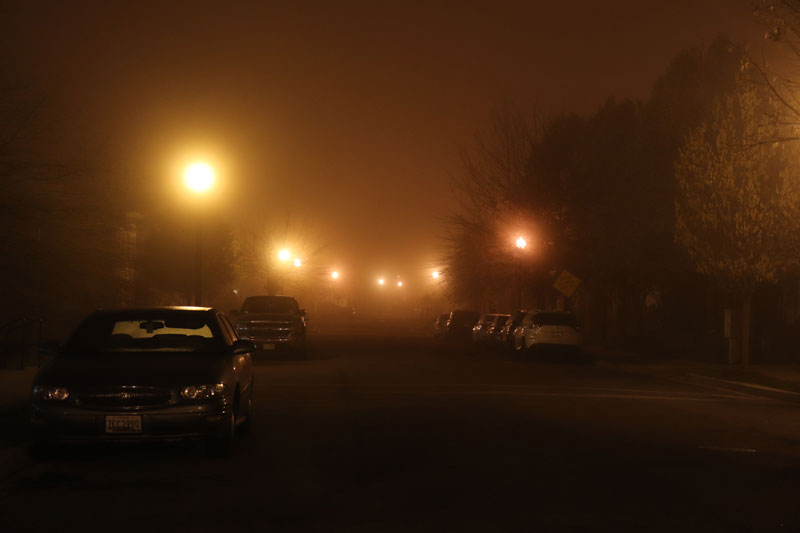 On Isolation
Dwayne Lawson- Brown

And just as sudden
A misty bomb explodes in the air

I know the feeling of walking through the room
Afraid of the space we share
The treachery of lungs
Fighting breath
Of locked doors and undone dishes
Light gently filtering into a sullen place

How we forgot "alone"
How simply connection rolled over fingers
Needled into our eyes and out our mouths
How our thumbs burned at the screens flame
Quick to claim togetherness

We have always been
Cells struggling in isolation
Lichen dancing around death by tardigrade
Swimming in our own juice from arrival to ascension

Today these walls hit different
The stairs stare back in silence
Dirty laundry plays audience to your musings
As bodies seed the hospital grounds
When the world outside sits in mourning
Descend into self
Embrace your record and know a solo song

This is how it feels
to see it all burning down
While learning to live.
Dwayne Lawson-Brown a.k.a. the "Crochet Kingpin" is a DC native poet, activist, breakdancer, and CEO of Crochet Kingpin LLC. He is one of the hosts of DC's longest running open mic series, Spit Dat, as well as host captain for the Busboys and Poets 450K location. In addition to featured readings at every Busboys and Poets location, SAGAfest Iceland 2015, Spirits and Lyrics NYC and Manassas, Woolly Mammoth Theater, and the C2EA "We Can End AIDS" march, Dwayne's short form poetry prowess led him to win the Best Haiku Award at the 2011 National Underground Spoken-Word Poetry Awards (NUSPA). His work to increase HIV awareness through spoken-word garnered recognition from the Congressional Black Caucus Foundation, BBCAmerica, the Discovery Channel, and The Washington Post. Ultimately, his goal is to force his audience to feel. When not documenting his life through poetic meter, he can be found on the metro making scarves and hats, or singing karaoke.
This poem features as part of the Azania To DC Arts Exchange 2020, brought to you by Hear My Voice and Jonathan B Tucker and made possible through funding from the DC Commission on the Arts And Humanities and the National Arts Council
© 2020. Unauthorized use and/or duplication of this material without express and written permission from the author and/or owner is strictly prohibited. Excerpts and links may be used, provided that full and clear credit is given to the author, the AzaniaToDC Arts Exchange and www.hearmyvoice.co.za with appropriate and specific direction/linkage to the original content.