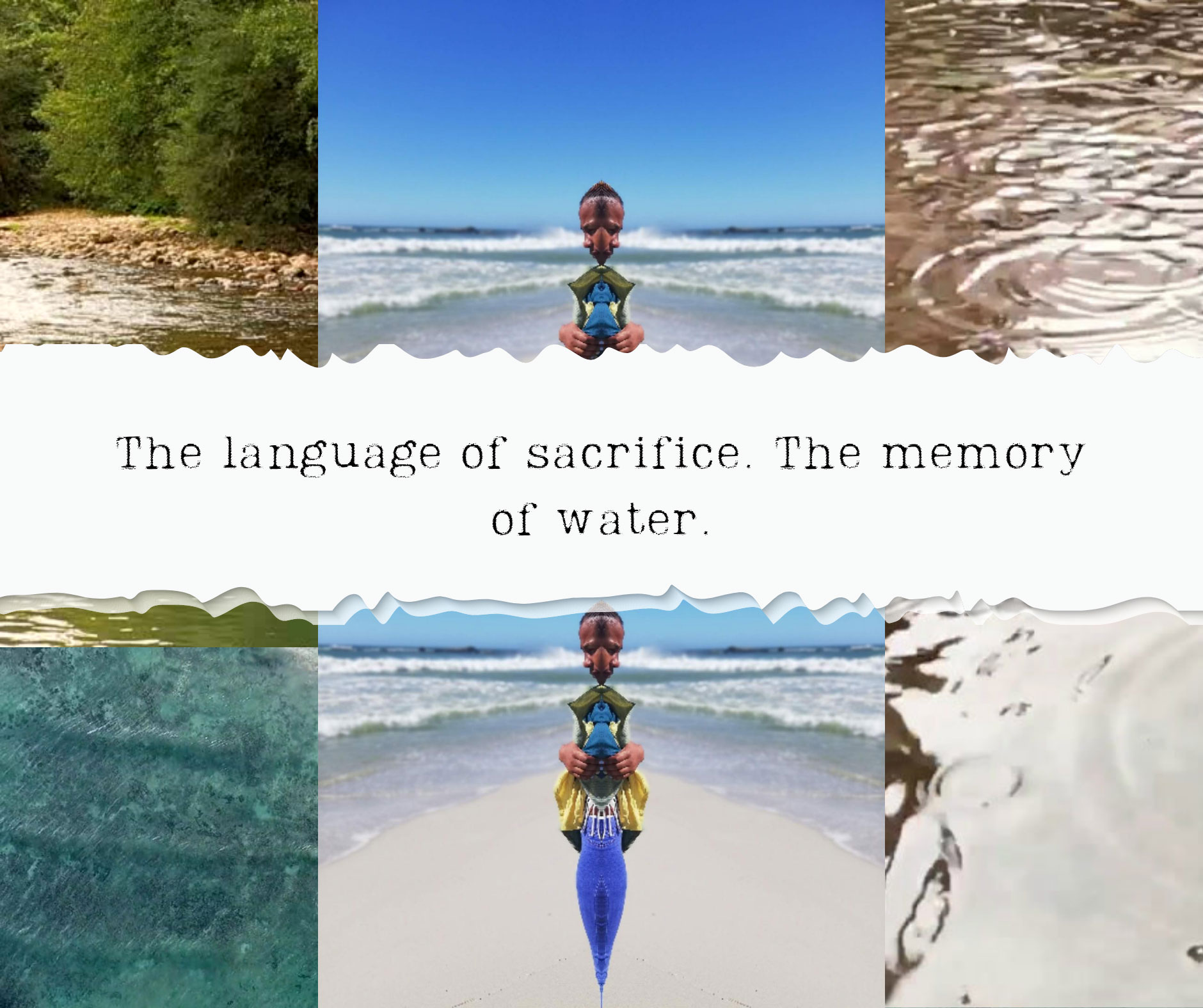 My mother is from a place where the desert and the mine meet.
Every drop of water is a bleeding sigh from mercury.
When buckets are full
Or heads are done
the tap gets on her last nerve.
Often, we forget that our mothers are the magicians that mould us under water. They give us their breath, their food, their blood, their health. They cacoon us in the safety of their love and the sacrifice of their freedom until we are ripe and ready to be born, soft. We come out, a body of water made human by time. Once we are here, they—our mothers— can not unmother. It is as though we are both thieves and gifters moving between the material and the ethereal. Taking away their freedom and offering them something else, which at often times, is an equivalent. It was only after I became a mother that I started to see my mother, to truly see her.
Her chapped lips would move
in restriction
and we would watch
my brother and I
as she peels off her ugly
and hands it down to us,
a war token
for things unspoken.
One of us is dying
the other one
thirsty
to love her
but
we can't fill his shoes.
His shoes,
symbolic of his absence
I doubt
She wants us to.
Epigenetics teach us that trauma can be a legacy. A wound as an heirloom, passed down from one generation to the next. Our wombs as the epicenter for such inheritance. This trauma becomes the tortoise shell that shelters us from the harshness of society but also burdening us with generational baggage. Yes, we are born soft but are we born unknowing of pain and suffering and the things that harden us?
We pull her back to motherhood
this little girl with an absent father
this woman with an absent lover
the men in her life
are like the water from her hometown
always there
but never available.
The first glass leaves a taste in your mouth,
it takes days
sometimes months
Even years
to get accustomed to the flavour,
To his absence
In the Christian bible, numerous books speak about children bearing the iniquities of their fathers. A theological explanation of the trauma we inherit. The common sun trapped in repetitiveness as we wheel our existence in the senseless shadow of those who came before us. Too common we hear that, 'he grew up in a broken home' and that's why he welds the foundation of his home into this cycle. Or that, 'his father used to beat his mother' and that is why he does the same to his girlfriend and or wife. That it hurt and hardened him as a child, that his memory of pain is not enough to make him stop, make him break the cycle or not even dare to do it.

In a place named Welkom
by a man who claims he found it empty
my great grandmother is rotting into the finest gold
and my mother
would clear her eyes
to water my grandmother's soul
just so that something grows
something that we can own
Then there is the duality we have to live with as black people living under an existential political arrest. The idea of this world is shaped around the greatest lie: Whiteness. It is this lie that has left us landless and traumatized—washed to shore like dead fish and packed into tins like sardines or crabs in a bucket— or both really. This is the other face of trauma we need to breathe through.To learn to live outside of whiteness. To learn that your blackness is not a reactionary identity to this lie, this atrocity thrusted on humankind. To do this we need to remember a different ocean. One before the ships could carry weapons of mass destruction and before the flag swayed to the hiss of betrayal. Long, long ago when the ocean floor was no mass grave but rather a place where spirits would lur us in and we would grow gills and dance.
Goldfields has water
that stings like slavery
and my tongue is one with Joburg city
small town ramblings In Thabong
we argue in Sesotho but here at home
I calm down in English
How do we unlearn this trauma and undo the log pile years of pain hardening us? How do we learn to breathe through the hurt without passing it on to Jesus or our ancestors or Lord knows we've got too much shit going on so we let it all sink to the bottom, the already full bottom? How do we articulate our softness back to us when we have lost the language?
The tap keeps dripping
she complains about the bill
I call the plumber.
A bible flaps open and a bird loses its wings
She is preparing for the mountain
Her longings are buried deep
In the mystery of him leaving
She thinks it's witchcraft
It must be
For a man to walk out on his family
The voodoo of his feet
Chasing his dreams
Without her
Without us
The cup is almost full
our hearts are empty.
I wish we were at the coast
with the ocean at our feet
but we are inland
and hurting.
All she ever does is pray to ST Engenas
All I ever do is pray that Love pardons us.
We are both kneeling
with our heads to the ground
and our backs against the sky I'm six foot deep into her pain
Grave and old
I'm growing old
Still waters pool at the back of our throats We wade through the words
To survive the silence
We turn over,
with our legs spread wide
hers for his absence
and mine for him
my lover
with a river cool aura
the kind that says
"I'll stay if you come with"
I break open a cloud and multiple the peace
A stream is born and on its way home
It rains
Pours
Comes gushing
Flooding everything
Water always finds its way home. Every rock it kisses, every cloud it hugs, every riverbed it sinks into and every body it passes through, water finds its way home. Down dirty rivers, up— up in the air, brushing against rough streets, maneuvering in the gutters, swirling in unforgiving mouths, crashing into hard rocks and bending over grass, water remembers everything. Our hearts are seventy percent water, our blood remembers everything.How far we have come, how much more we still need to go to find our way back to love, back to our softness, knowing of all the pain and suffering.
She smiles
I survive the drowning
so does she
The plumber fixes the tap
she licks her lips
and
I drink
from her fountain
she is the coal stove
love
of a worn-out youth
I offer her
a sip
from my
juice.
For us to get here, we need to be water.
Sibongile Fisher holds a Bachelor's Degree in Marketing Management and a Higher Certificate in Performing Arts from the Market Theatre Laboratory, South Africa. She is a poet, writer, and facilitator. Her short story "A Door Ajar" won the 2016 Short Story Day Africa Prize, was shortlisted for the 2017 Brittle Paper Literary Prize, and also shortlisted for the 2018 Nommo Awards. She won the 2018 Brittle Paper Literary Award for Creative non-fiction for her essay "The Miseducation of Gratitude" published by Afroanthology in 'Selves' Anthology 2018. Her play "The Secrets That Raisins Keep" was nominated for best script in the Gauteng Ishashalazi Drama & Dance Festival. She chairs The Raising Zion Foundation, an organization that promotes literature, drama, and poetry in high schools. She has worked with the Market Theatre Lab, teaching playwriting, and has facilitated performance and writing workshops for Arts Alive, The Hillbrow Theatre, and Poetry Zone ZA. She began her journey as a performance poet and has graced stages such as the Joburg Theatre, the Soweto Theatre, and the Market Theatre. As a facilitator, she has hosted panel discussions at The Abantu Book Festival and various book launches for esteemed authors. She has also appeared as a panelist at Time of the Writer Festival (2017), Abantu Book Festival (2018, 2019), Kaduna Book Festival (2019), and the Ake Book Festival (2019). She is passionate about accessibility to arts and technology for teenagers across the globe. She features in various publications, such as: Migrations, SSDA; Between The Pillar And The Post, Diartkonageng; Selves, Afro Anthology; Prufrock Magazine; Mail & Guardian; and Black Tax: Burden or Ubuntu, Jonathan Ball Publishers.
This poem features as part of the Azania To DC Arts Exchange 2020, brought to you by Hear My Voice and Jonathan B Tucker and made possible through funding from the DC Commission on the Arts And Humanities and the National Arts Council
© 2020. Unauthorized use and/or duplication of this material without express and written permission from the author and/or owner is strictly prohibited. Excerpts and links may be used, provided that full and clear credit is given to the author, the AzaniaToDC Arts Exchange and www.hearmyvoice.co.za with appropriate and specific direction/linkage to the original content.